The Simplest Explanation of Cloud Computing
We pay for using electricity at home or office, and the charges are levied for the actual consumption as recorded by the meter. We don't care how it is being produced, stored and transmitted to us. Do we?
It is the same concept in the world of Information Technology that we call 'Cloud Computing'. Here 'cloud' refers to internet and in this arrangement, everything related to computing is offered 'as a service'. So you don't need to make any upfront investments whether you are a back-end IT professional looking to build Infrastructure, a programmer/developer needing Platform to build applications, or an end-user looking for ready-to-use Software.
Cloud Service Models
Companies like Google, Amazon, Microsoft etc are offering all of these on rental /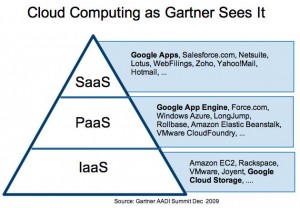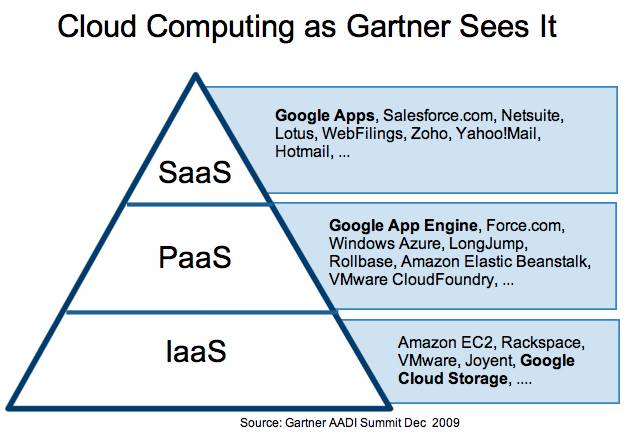 subscription basis, called IaaS (Infrastructure as a Service), PaaS (Platform as a Service) and SaaS (Software as a Service) respectively. Simply put – all you need these days is just your end-user device (laptop, desktop, tablet, smartphone etc) because all the three layers / components of Information Technology, as explained above, are available on rent through internet. So, no need to invest in your own network, storage, database, tools, software etc; and thus, no hassles of maintaining, upgrading them as well! It means a switch from 'technical management' to 'contractual management' of information technology.
According to Wikipedia, Cloud Computing is delivery of computing as 'a service' rather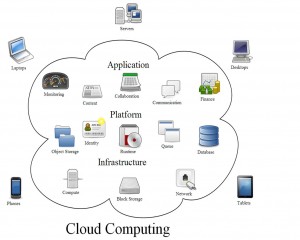 than 'a product'. It does not require end-user knowledge of the back-end infra / location. It encompasses subscription-based / pay-per-use service. It is real time, over the internet, and is driven by SLAs (Service Level Agreements). Similarly, the National Institute of Standards and Technology, USA (NIST), has defined the key characteristics of Cloud Computing as Resource Pooling, Rapid Elasticity, On-Demand Self Service, Ubiquitous Access and Metered Use.
Benefits of Cloud Computing
Apart for zero capital investment, lower operating cost, agility, elasticity, financial transparency, anywhere-anytime access, SLA etc, Cloud Computing has also been hailed as Green Computing since it is offered from fewer locations as a shared service.
Cloud Delivery Models
According to NIST, there are four types of cloud delivery models, as follows.
Public Cloud: Services commonly available to all on internet, e.g., payroll, accounting, HR management, application hosting, media hosting, project management, office productivity suites, sales, enterprise email, data storage, tools for software development etc.
Public Cloud: Large global companies build their private cloud infrastructure to restrict access to employees or authorized partners.
Hybrid Cloud: It's a mix of private and public cloud. For example, a large global MNC may have their IT infrastructure on private cloud (offered to employees as IaaS), but may also be using third-party SaaS (e.g., payroll, ERP, Travel & Expense Management applications).
Community Cloud: This is a public cloud catering to a particular set of users, e.g., a community making apps for iPhone, Blackberry, Android etc.
Challenges in Adoption of Public Cloud
While the cloud adoption has been rapidly catching up, the biggest concern that the CIOs have are around data security, privacy and sovereignty. This is the main reason why the public cloud adoption in BFSI (Banking, Financial Services & Insurance) industry has been slower as compared to the other industry verticals.
The other concerns facing the CIOs are Data origin/traceability/audit, managing user identities and entitlements, costs & risks of contract termination, ability to customize, need for  efficient IT contract negotiation / vendor mgmt skills, lower operating cost vis-a-vis SLAs, lack of a cohesive legal framework etc.
Apart from these technical issues, the CIOs also have to deal with the huge task of cultural change – both within IT and the rest of the organization.
Useful Links