I am surprised to see that a lot of people are criticizing the upcoming corporate legislation in India (effective 01-Apr-2014) that requires certain classes of companies to spend 2% of their profit (PBT) on CSR. Two common questions being raised on this topic are the following.
Companies are already discharging their obligations by paying taxes to the government. Still we have power cuts, broken roads, bad government schools and hospitals etc. So 

is our government abdicating its own fundamental responsibilities?

The

profit earned by a company is shareholders' money

. So why should that be used for CSR? If the promoters / directors of the company want to spend on CSR, they should use their personal wealth. And then examples of Bill Gates, Shiv Nadar, Azim Premji etc are used to justify that argument.
Here are some eye-opening facts that may help companies appreciate and embrace this law as an opportunity – not only to address the problems around us, but to also create long-term value for the stakeholders.
First, Let's Revisit the Definition of CSR / Sustainability
As rightly pointed out in 1987 by the World Commission on Environment and Development –

"Sustainable economic development is one that meets the needs of the present without compromising the ability of future generations to meet their own needs."

So, through CSR, we are actually doing ourselves a favour.

People often confuse CSR with plain charity in form of financial contributions.

According to the draft rules released last year by the Ministry of Corporate

Affairs,

"CSR is a way of conducting business, by which corporate entities visibly contribute to the social good. Socially responsible companies do not limit themselves to using resources to engage in activities that increase only their profits. They use CSR to integrate economic, environmental and social objectives with the company's operations and growth."
Companies Breaking the Myths around CSR
Why Does TATA Group Spend 4% on CSR? 

Mr. Ratan Tata, former chairman of the TATA group, spoke last year at Stanford Business School about his group's philosophy on spending "shareholders' money" on CSR. Click the link below to watch this interesting 2-minute video.
Why has the ITC Group invested money and resources to comply with the stringent GRI (Global Reporting Initiative) standards?

Today ITC is only company in the world to be carbon, water and solid waste recycling positive. And they are also proud to run the world's largest chain of green luxury hotels. See details about GRI below in this article. Also click here to download the ITC 2013 Sustainability Report.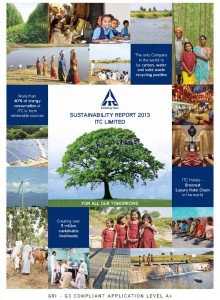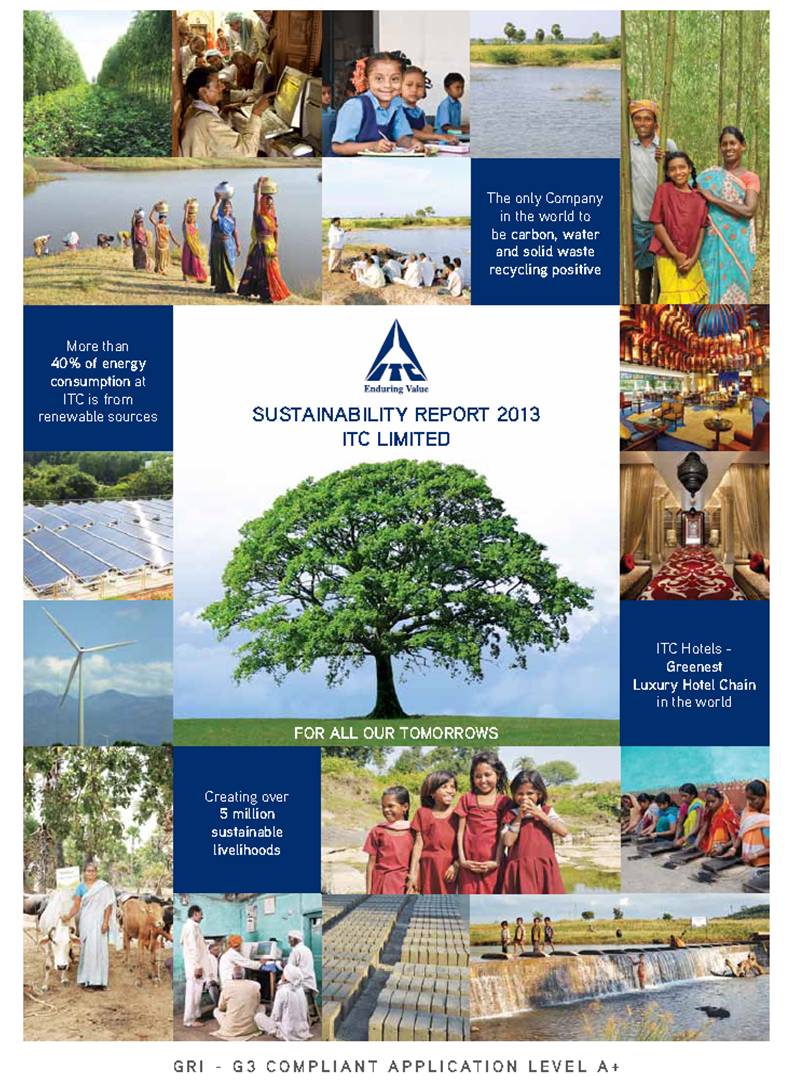 The 10 Companies With The Best CSR Reputation Globally (featured in Forbes, source: 2013 CSR RepTrak® 100 Study

)

The Reputation Institute – the world's leading reputation-based advisory firm – carried out a survey of 55,000 consumers across 15 countries (

including India

). According to their report, the top 10 reputed companies (for CSR) are Microsoft, Google, Walt Disney, BMW, Apple, Mercedes-Benz, Volkswagen, SONY, Colgate-Palmolive, and Lego Group.
Interestingly, four companies – Microsoft, Walt Disney, Google and BMW – tied for the No. 1 spot.
Needless to mention,

all these global companies represent countries that have world-class roads, public schools, hospitals etc.

But they still believe in CSR for a sustainable future. And, many of them actually spend much more than 2% of the profit (shareholders' money).
Advantages of CSR to the Corporates
In the same report of the Reputation Institute,

73% of the 55,000 consumers surveyed are willing to recommend companies

perceived to be delivering on CSR.
Study results show that companies that understand how to create positive perceptions of their CSR programs

gain the benefit in terms of sales and recommendations from consumers

.
Three of the seven dimensions that drive reputation (citizenship, governance, and workplace) fall into the CSR category—and analysis shows that 41% of how people feel about a company is based on their perceptions of the firm's corporate social responsibility practices. In terms of rankings –

The Walt Disney Company

has the best perception for

Citizenship

. Approximately 50% of consumers surveyed agree that Disney is a good corporate citizen that supports good causes and protects the environment.

BMW

has the best perception for

Governance

. Approximately 49% of consumers across the 15 markets agree that BMW is a responsibly-run company that behaves ethically and is open and transparent in its business dealings.

Google

has the best perception for

Workplace

. Fifty-one percent of consumers across the 15 markets agree that Google is an appealing place to work who treats its employees well.

FORTUNE uses "social responsibility" as one of the nine key attributes

for their list of world's most admired companies.
While working as

CFO at EMC India COE

, I had an opportunity to visit its manufacturing facility in Cork, Ireland. There the EMC organization has consistently been rated as the "Best Place To Work For". The most amazing thing they have created through their engagements with the educational institutions and community is that a lot of local people want their children to work for EMC when they grow up.
Problems (Opportunities) Staring at India
India Philanthropy Report by Bain & Co (American global management consulting firm)

2013 Report:

There have been significant improvements in areas such as enrolment of children in schools, infant mortality and maternal mortality rates etc. But

India still

ranks 134th out of 187 nations in the United Nations' Human Development Index.

According to the report, "Given the scale of the challenges, the state cannot address these issues all alone. Private philanthropic capital is vital". 
Download India Philanthropy Report 2013.

2014 Report:

The Indian government has made strategic investments in Reproductive, Maternal, Newborn, Child and Adolescent Health (RMNCH+A) to reduce maternal and child mortality.
India has a successful track record in addressing society-wide issues on a large scale. Developing comprehensive ecosystems for polio, HIV and microfinance was critical to India's successes in those areas.
Similarly,

an RMNCH+A ecosystem of stakeholders is needed

to address issues across health, nutrition, education and sanitation.

The six critical actors in the ecosystem

are beneficiaries, interventionists, coordination bodies, infrastructure providers,

funders

and organizations that promote awareness, as shown in the picture below. The successes of other ecosystems also suggest that non-state actors and funding can be game changers.
Download India Philanthropy Report 2014.

Emergence of Global Reporting Standards:
CSR is already moving to the next level in the developed world while India is playing catch-up. Here are a couple of key developments.
Triple Bottom Line Accounting:

This term was originally coined by John Elkington – a world authority on corporate responsibility and sustainable development – in his 1997 book Cannibals with Forks: the Triple Bottom Line of 21st Century Business. It was later

ratified by the United Nations and ICLEI

(International Council for Local Environmental Initiatives) in 2007.
A triple bottom line measures the company's "

economic

value

", "

people account

" – which measures the company's degree of social responsibility and the company's "

planet account

" – which measures the company's environmental responsibility. (source: Investopedia)
Click here to download the PDF on how TBL works (source: Indiana University Kelley School of Business, 2011)

Global Reporting Initiative (GRI)

GRI was Initiated in 1997 by the UN Environment Programme (UNEP). It's a non-profit organization promoting economic sustainability. It is one of the world's most prevalent standards for sustainability reporting and is

being used by more than 4,000 organizations from 60 countries.

The

objective of GRI is to make sustainability reporting routine & comparable as financial reporting.

It provides guidelines for disclosing non-financial information and addresses environmental and social conduct, corruption and human rights.
It is also referred to as Ecological Footprint Reporting, Environmental Social Governance (ESG) Reporting, TBL Reporting and CSR Reporting.
​G4 is the latest version of GRI's Sustainability Reporting Guidelines
Why is it selfish to criticize CSR?
Example 1: Why do we have

pollution control

norms for factories and vehicles in our country?

Shouldn't the companies be allowed to ruin the environment by pumping out poisonous smoke, or by contaminating water resources around them, because they pay taxes to the government and make profits for the shareholders?

Example 2: Companies spend huge amount of time and money on their location strategy. Let's take the example of

Bangalore

where I live – a city once popularly known as "

City of Gardens

" or "

Pensioners' Paradise

". It has witnessed an explosion in the population which has more than doubled in the last two decades, resulting in severe issues related to traffic, water, sanitation, garbage, pollution etc, and also a huge economic divide between the haves and have-nots. Why, because hundreds of large companies from all over the world found this city as a preferred destination because of the availability of good talent, excellent climate, cosmopolitan culture, safe location (no flood, earthquake, tsunami) etc, which in turn triggered massive immigration of people from other parts of the country. Now when

the city is choking to death (forget its gardens!)

– if we say that we owe nothing because we pay tax to the government, are we being fair to our future generations?
The New Law is a Blessing for India, and India Inc.
Companies must appreciate that the government has extended a great advantage to them by not asking them to pay this 2% as "tax".

Instead it has given the freedom by asking companies to figure out the right opportunities, collaborate with other companies if they want to, spend the money, and just submit a report.
Given the level of corruption in the country, such autonomy is indeed a very welcome step.
Yes, there are a few areas in the CSR legislation that need more clarity (see my other blog), which I am sure will be handled by the ministry.
I will conclude by saying that the new CSR legislation is an opportunity to raise the bar for India Inc; and it does hold the promise to move us into the club of "developed nations" someday—a goal we are truly capable of achieving.